San Francisco is the only city in the world with cable cars. What people sometime mistake for cable cars are electric trolleys or street cars. The big difference is a cable car doesn't have an engine. It's a box with wheels. What gets it up and down the hills is it has a grip, and that grip grabs the moving cable under the street. It's like grabbing a tow line at ski resort.
From a platform inside you can the machinery that moves the cable under the streets.
Video of machinery pulling cables
There are four cables for the three cable car lines. That's because the Powell line splits and takes riders to Hyde St or Taylor St on Fisherman's wharf. The California St. line is continuous. Where ever they end, they all start here, winding out in their miles long loops.
To see the machinery is to truly appreciate what simple yet amazing technology the cable cars employ. It is virtually unchanged since 1873, except instead of steam engines powering the machines, it is now electric. It will give you an enlightened experience when riding a cable car.
There is also a museum about the history of the cable cars, and of course a gift shop, which actually has cool stuff.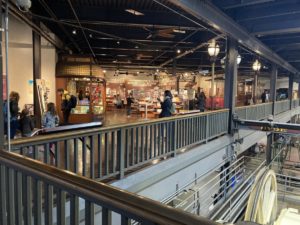 You should visit because there is no other place like it in the world. And best of all, it's free. Bring the family because the kids will like it, and if they don't, no matter. You haven't spent a dime. But they'll like it. It feels like you're backstage, looking at secret things. It's a little noisy, not too much, just enough to let you know something special is going on.