Outside the DeYoung Museum in Golden Gate Park is one of my favorite sculptures, because is about wine. Titled "Le Poeme de la Vigne," this Poem of Wine is no formal honorific to viticulture. It is a celebration of wine in the form of a mad bacchanalian dreamscape rendered in 3 tons, 11 feet of bronze.
A little backstory. This piece was created by French illustrator and sculpture Gustove Doré for the 1878 Paris World's Fair. From there it traveled to the Chicago World's Fair of 1893, (which was the setting for novel "The Devil in the White City"). San Francisco, feeling a little insecure on the world stage, was anxious to prove that it could also host a fair. A lot of stuff from Chicago's Fair was purchased and used for San Francisco's 1894 Midwinter Fair, including Le Poeme de la Vigne." Several years after the fair Michael DeYoung bought it.
Starting from the base and going to the top, the sculpture is the story of wine. The best strangeness is at eye level. Here a small army of cherubs fight off a stunning variety of vermin and pests ready to attack the grapes and vines.
Armed only with chubby hands and fists, examples include one pulling the tail of a rat, another fending off a beetle, and another wrestles what may be a tarantula but is certainly a big spider, a spider as big as the cherub itself.
Just above the heroic putti is the harvesting of the grapes. Then fermentation, and at the top, indulgence of the efforts. If I had to battle a spider as big as myself, I'd need a drink too.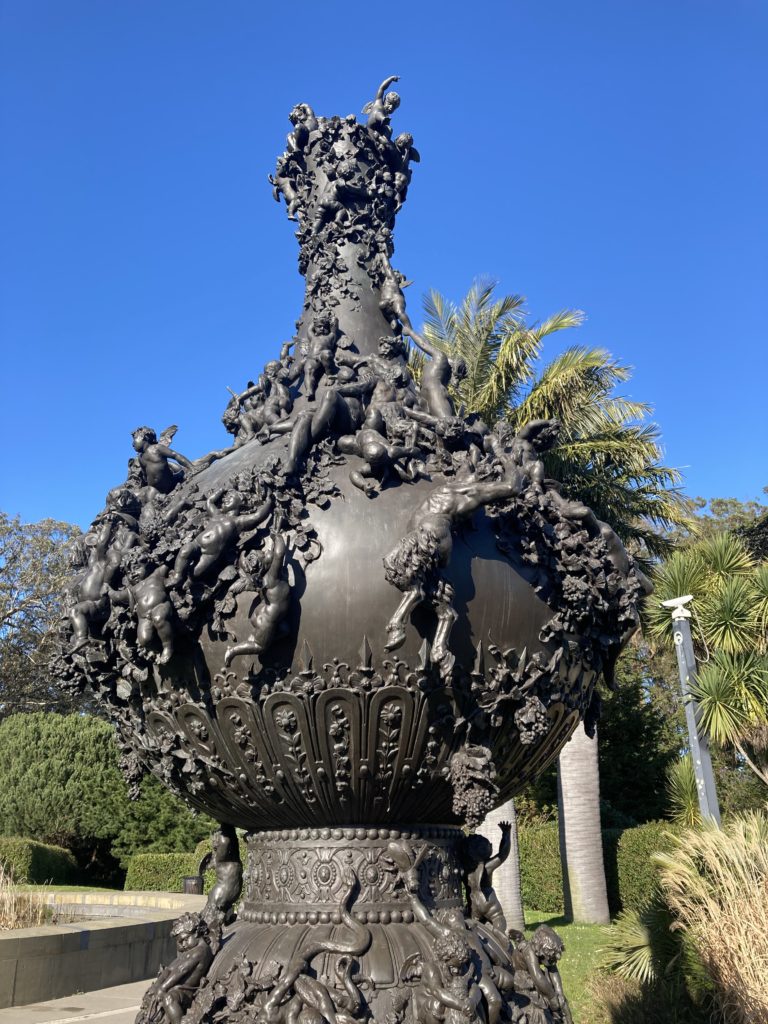 By the way, the sculpture across the road does not show a muscled man work a wine press. He's crushing apples. Not nearly as much fun as wine.