One of the reasons I love Coit Tower is that its purpose is public space. It doesn't have what is generally considered a practical purpose, such as a conduit for commerce or a city building for storage or business.  It was built with seed money from Lily Coit who left a third of her estate to San Francisco "to be expended in an appropriate manner for the purpose of adding to the beauty of the city which I have always loved."  Coit Tower has much to offer the visitor.
From the parking lot, there are views of the Golden Gate Bridge, Russian Hill, and Alcartaz. Inside the tower are murals from the 1930's PWA project.
Here's an insider tip: if you need a bathroom, there are art deco toilets inside don't stand in line at the toiler kiosk outside. All are free.
A $7 elevator ride takes you 15 stories above the city.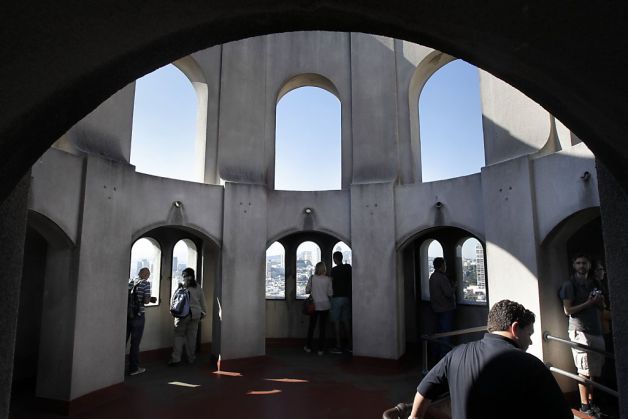 The line to get up to the top can be long and daunting, especially during holidays, summer, and weekends. Either go early or later in the day to avoid what can be a 45 minute wait. Getting down from the top can be difficult as well, as the elevator only holds 7 people.
If you don't get out and go inside while on your private tour in the convertible MINI Cooper,  you should make it part of your day when you visit North Beach. After coffee in the the morning, take one of the many staircases on the Western (North Beach) side up to the tower. Then take another staircase back down to North Beach for lunch and a glass of wine.