This morning I had coffee on an outside table near a sculpture garden, then enjoyed a 9-story panoramic view of Golden Gate park, and it didn't cost me a dime. Well, the coffee was about $4, but came with refills. The art and views were free.


Part of my job is giving private, custom tours of San Francisco in a convertible MINI Cooper. Other part is informing guests on how to get the most out of their time in San Francisco, and discover places and experiences that even the locals don't know about. And if it's free, even better.
The cafe in Deyoung Museum in Golden Gate park is better than most museum cafes. My experience with museums cafes is they are overpriced for what you get, which is generally mediocre. It's like a concession stand at the movies: no one expects a bargain.
The insult is paying over the top and then getting lousy food.
The DeYoung Cafe has good food. Sure, you're paying a bit more, but at least you'll enjoy it.
The Cafe has a large outdoor seating area. It is shaded, but sunlight pokes through the hundreds of small holes in the roof. It overlooks a lawn and sculpture garden that often doubles as a playground. It's rare not to see children there, and the kids are allowed to touch, and in some cases climb on, the art.
At the other end of the museum is an observation deck 9 stories above Golden Gate Park.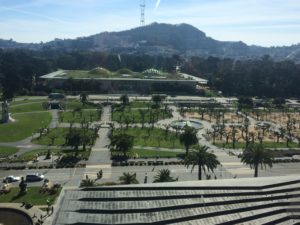 These photos don't do justice to the panoramic 360 degree views of the park, bay, and downtown.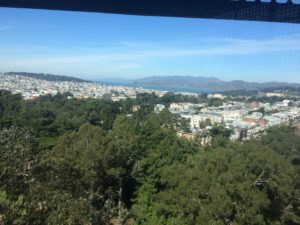 You don't have to pay admission to the DeYoung to access the tower. It's free public space.
The cafe, sculpture garden, and view tower are not well known, even to people who live in the area, and even less known to tourists. So be a knowledgeable traveler, get off the tourist path, and experience this part of Golden Gate Park like a local