Tommy's Mexican out at 24th/Geary is one of those off the beaten path places that you'll love, and be able to boast about visiting when you get back home. 
While the restaurant is good, the real draw is the small bar serving up 100's of tequilas. Personally, I like the house margaritas, which are made with quality tequila and fresh limes–no premixed stuff.
The place is small, so get there's early if you want to be sure you get a seat. But even if you don't, the atmosphere is so friendly that you won't mind standing.
Julio, (pictured) is the owners' son, and the mastermind behind creating "The Greatest Tequila Bar on Earth." He has been featured in numerous magazines and television show. If Julio is there when you are, he will treat you like a friend and long time regular.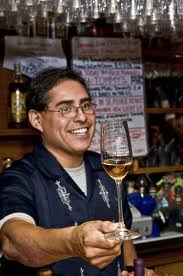 It's out in the little-visted Richmond district (out in the Avenues, as we say), but easy access from down town on the 38 Geary bus. And you'll want to take public transportation, because you should never drive in San Francisco anyway, but especially after enjoying the best margaritas you'll ever have. Of course I can drop you off there after your private tour, but I won't be drinking, at least until I get the MINI back safely in the garage.
http://tommysmexican.com/