Most visitors to San Francisco make it out to Golden Gate Park, at least the East end of it. Aside from being a beautiful place to stroll, this is where there are museums, gardens, and other sites worth seeing. The Conservatory of Flowers is a world famous example of Victorian greenhouse architecture (upper right corner of the map).
Nearby are the Academy of Sciences, the DeYoung Museum,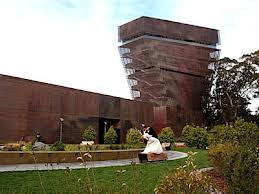 and Japanese Tea Garden, located around Music Concourse Dr.
But what remains unknown to most visitors is they are on the edge of neighborhood that has a lot of great restaurants and interesting shops. The Inner Sunset is just a 5 minute walk from the museums along Martin Luther King Jr. Dr. to 9th Ave.
Along 9th Ave. you'll find Misdirections (one of the few brick and mortar magic shops left), Ebisu (my favorite sushi restaurant), and Nopalito for traditional Mexican food.  Turn left at Irving, and within a few blocks there is Amazing Fantasy comic books (8th Ave), Inner Fog (great wine bar, between 6th and 7th), the Crepevine (good and inexpensive food, especially for breakfast and lunch, between 7th and 8th) and several coffee shops. Turn right at 9th and Irving, and down the street (between 11th and 12th) is San Tung, where people line up for the Dry Fried Chicken Wings.
Those are just some of the places to discover in this neighborhood. And after you're done exploring getting back downtown is a snap on the N Judah.